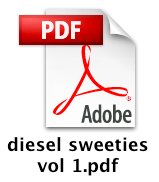 By my calculations, DS is going to hit 2000 comics in a little under two months. April is Clango's 8th birthday. I'd like to celebrate by releasing the entire webcomic archive for free in ten volumes. It worked for Nine Inch Nails and Radiohead- not bad company to try and keep!
These files will be in PDF form, available one per week for ten weeks. You can donate if so inclined, or take advantage of ten classic shirt designs @$10.99. At the end of ten weeks, I plan to release a special anniversary art book.
All eBooks will be released under a Creative Commons Attribution Non-commercial license. You're free to reformat them into .CBR, Word docs, XML, whatever you like. You're also free to archive and share them with others for free. They're even small enough to email. Just don't use them commercially.
Volunteer torrent seeders/posters should email me, so I can get you the files a day early and you can give me the location of your torrents.
I'm really excited to get Diesel Sweeties into the hands of new readers in a new way- and even more excited to make a sexy art book to take on tour this summer.
We begin the experiment this Wednesday, 3/12. Prepare your inter-tubes.
If your book store, record store, coffeeshop or organization would like to have me out for a signing this summer, please email!