I know I haven't had much to say about newspaper strips recently, it's because I haven't had much confirmed news. Blogging without fact-checking is not a mistake I enjoy making.
Thanks to long-time reader David Lay, I have news AND a photo of colorized DS in the Cleveland Plain-Dealer. I have to say, they got the coloring pretty spot-on. (and that's coming from a color control freak)
If you're inclined and eligible, please drop comics@plaind.com a line saying you like seeing DS in print. Cleveland is one of my first papers in this area and definitely an city I'd like to be represented in.
Anyone have other sightings recently?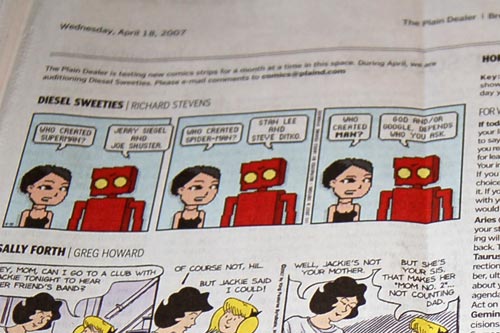 I have some more news about Clango Club, a new book and the DS 7th birthday… but that's next week. Today, we battle deadlines and kobolds.
PS: here is question I asked on Ask Metafilter for those of you who are artists looking for a really unique dotscreen-like pen to do shading on sketches with. I want to get a hundred of these pens in case they're a dying breed.