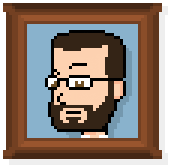 If you've ever wanted to see yourself in hand-drawn 8-bit form, here's your chance! I'm still digging out of a mountain of debt brought on from expenses incurred while I was syndicated, but hopefully this can put a dent in it.
The portrait studio is open and will run until October 31.
All donations are extremely welcome! I'll list all donors on the Block Party page, whether or not you buy a portrait.
A $50 donation gets you a full-size DS-style portrait of any one person or kitty, plus 100px and 32px icons of the same image. If you want a DS character in the panel with you, that's free. Your portrait and name will also be added to the Block Party page where you can hang out with other patrons.
A $100 donation gets you the above, plus a one-of-a-kind 5×7″ signed print of your portrait.
Additional people and/or cats are $40 each. Please contact me at dieselsweeties AT mac.com for extra-custom and/or commercial commissioned work.
What you will need: Clear photos of your face from the front and at a 3/4 side angle. You should be fully visible from the waist up. If there are specific items of clothing you want to be depicted in, I'll need one or more photos of you wearing them.
This example portrait I drew of Mr. Cloud should give a good idea of what I need and what you can expect. Also, take a look at the portrait of Wil Wheaton and Xeni which inspired me to do this whole donation drive!
Disclaimer: Not all clothing or prop requests will be possible in a pixel style. Trust me, I've tried a *lot* of different character designs over the years and may make modifications in order for your portrait to "work" at this resolution. Costumes are fine, but clothing or lack of clothing racier than PG-13 are not. My aim is to be accurate, so please keep that in mind when choosing your photos!
How can I use my portrait? You are free to use your portrait forever in any non-commercial manner. Use it as your Twitter icon, Facebook picture or as an author image in a book or CD or on your blog. If you wish to sell this image as a t-shirt, album cover or for any other commercial use, we can come up with an arrangement!
What's the turnaround time? Depends on the response, but I'll do everything in my power to keep it under two weeks without missing comic updates.
****
Please! Once you donate, send an email to dieselsweeties AT mac.com with photos attached, from an address you check daily.